Von der Drogensüchtigen zur College
Ginny Burton war schwer drogensüchtig und kriminell. Heute ist die US-Amerikanerin Stipendiatin in Washington, auf Fotos ist sie kaum wiederzuerkennen.
11. Juni 2021 – 13:54 Uhr
Ihre Geschichte könnte aus einem Hollywood-Drehbuch geklaut sein: Ginny Burton war schwer drogensüchtig und kriminell. Immer wieder wurde sie verhaftet, immer wieder wurde sie rückfällig – bis sie vor mehr als sieben Jahren den Drogen abschwor. Burton hat ein neues Leben begonnen: Sie hat einen ausgezeichneten College-Abschluss geschafft, auf Fotos ist sie heute kaum wiederzuerkennen. Jetzt hat sie ein großes Ziel.
Burton wurde als Kind eines Drogendealers und einer Drogensüchtigen geboren. Als sie vier Jahre alt war, landete ihr Vater im Gefängnis. «Ich hatte nie eine Chance», sagt sie heute gegenüber «ABC».
Im Alter von sechs Jahren rauchte sie erstmals Marihuana. Mit zwölf nahm sie Meth, mit 14 Crack. Schon als junge Frau war die US-Amerikanerin schwer heroinsüchtig.
Noch als Teenagerin wurde Burton vergewaltigt, ein Mann, der bei ihrer Mutter Drogen kaufte, überwältigte sie. Sie bekam zwei Kinder, der Vater ihres ersten Kindes wurde erschossen, sie in ihrer Beziehung geschlagen. Mehrmals versuchte Burton sich das Leben zu nehmen. «Ich hatte keine Hoffnung. Ich konnte mein eigenes Leben nicht ertragen», blickt sie heute zurück.
Burton überfiel damals wahllos Leute und raubte Drogendealer aus. 17-mal wurde sie verurteilt, dreimal landete sie im Gefängnis. Jedes Mal wurde sie clean, jedes Mal folgte der Rückfall innerhalb weniger Monate – bis Burton im Dezember 2012 erneut festgenommen wurde.
Damals schwor sie sich, ihr Leben endlich zu verändern. Nach ihrer Freilassung kämpfte sie dafür, in ein Therapieprogramm aufgenommen zu werden. Bis heute ist sie clean.
Burton begann fortan sich sozial zu engagieren. Sie begleitete ehemalige Gefängnisinsassen und kümmerte sich um Obdachlose und Bedürftige.
Gleichzeitig bildete sie sich fort: Sie besuchte Kurse am South Seattle College, später erhielt sie ein Stipendium an der großen Universität von Washington und überzeugte dort mit hervorragenden Leistungen. Die traditionsreiche Harry S. Truman Scholarship Foundation nahm sie als Stipendiatin auf, 2021 machte sie ihren Abschluss in Politikwissenschaften.
«Sie will wirklich Leuten helfen. Sie will denen, die am Boden sind, helfen, an die Spitze zu kommen. Und ich glaube das wird sie», sagt Ginnys Ehemann Chris, der selbst drogensüchtig war und ebenfalls im Gefängnis saß, bei «ABC».
Zusammen ist das Paar aus der Großstadt aufs Land gezogen, im Haus von Chris' Großeltern wollen sie ein Apartment beziehen. Zur Ruhe setzen möchte sich Burton allerdings noch lange nicht: «Vielleicht kann ich anderen Leuten helfen, ebenfalls ein neues Leben zu beginnen», sagt sie. «Es gibt Tage, an denen wünsche ich mir, ich könnte mich einfach um meinen Garten kümmern und ein kleines Café aufmachen. Doch ich weiß, dass ich weiter Hoffnung schaffen muss.»
(jda)
Haben Sie suizidale Gedanken oder haben Sie diese bei einem Angehörigen/Bekannten festgestellt? Hilfe bietet die Telefonseelsorge: Anonyme Beratung erhält man rund um die Uhr unter den kostenlosen Nummern 0800 / 111 0 111 und 0800 / 111 0 222. Auch eine Beratung über das Internet ist möglich unter http://www.telefonseelsorge.de.
Woman shares viral Facebook about overcoming addiction, hits home in Chillicothe
"If you would have told me that my life would look like it does today eight and a half years ago, I would have called you a liar," Burton said.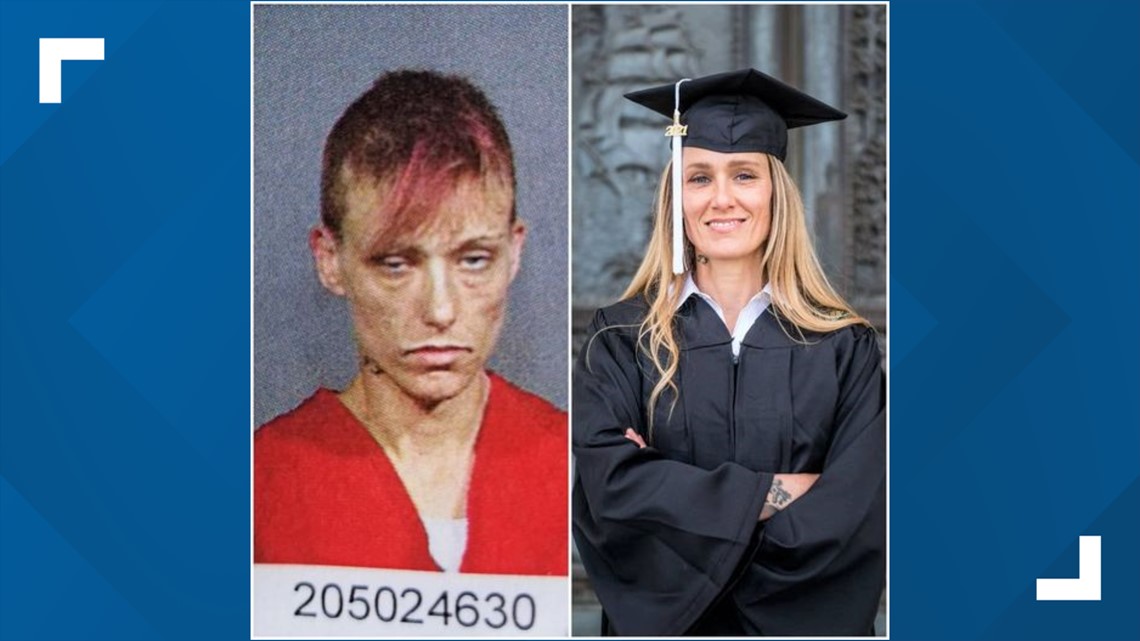 COLUMBUS, Ohio — What is it they say about a picture being worth so many words?
A recent post by Ginny Burton has some people throwing out words like "hope" and "perseverance." You might not believe it at first, though.
Neither did she.
"If you would have told me that my life would look like it does today eight and a half years ago, I would have called you a liar," Burton said.
At six years old, Burton says she was introduced to marijuana by her mother. At the age of 12, she says she got into methamphetamine and cocaine. By 14, she was smoking crack and getting blackout drunk.
"By the time I was 15 years old, I was a full-blown drug addict," she said.
She was in and out of juvenile hall. She was incarcerated three times, including twice with her mother. 
It's hard to believe, she knows, but all the while she wanted to stop using.
"I'll be really honest with you I didn't care whether I was killed, whether I successfully committed suicide or whether I went to prison," Burton said. "Any one of those options was just fine for me because I just wanted to stop and I couldn't stop on my own."
It was a vicious cycle until eight years, five months and 27 days ago.
"It's the longest I have ever been clean in my entire life," she said.
How about that for motivation? I honestly thought I'd die on a park bench with a needle in my arm or by gunshot to the…
Next week, Burton will graduate with her bachelor's in political science. She announced her achievement on Facebook and from Rochester, Washington, nearly 2,500 miles away in Ohio, her message hit home.
"We want to celebrate their success," Chillicothe Police Chief Ron Meyers said.
Chief Meyers says he knows the struggles of addiction. He and his officers see it every day. All the more reason, he says, to share Burton's post.
"Anytime we can get a message out to folks, especially with something we're succeeding on here and getting treatment and letting folks know that it's OK to have bad days and you can do better yourself," he said.
Along with Chillicothe's Peer Supporters and Post Overdose Response Team, Chief Meyers says it's important for addicts to know recovery is possible.
"I think it's amazing and I think it's beyond me," Burton said. "I think that apparently the world needed to see some hope."
Her post has been shared by thousands of people and has reached as far out as the Middle East, Switzerland and Spain. 
Messages are pouring into Burton's inbox from former and current addicts, thanking her for having the hope and perseverance to keep going.
Burton has already been accepted to the Evans School of Public Policy in Seattle, where she says she wants to change the prison system.
Transforming the Prison System, with Ginny Burton — Post
The way I remember it: December 15th, 2010, a nuclear explosion on tennis
shoes burst into our office. The night before, I had received the following
email from a member of our Board of Directors:
Post-Prison Education Program2450 6th Ave S Suite 200, Seattle, WA 98134(206) 408 5560
Toll-free number: (844) 984-2799
allofus@postprisonedu.org 
Designed by Post Prison Education Program,a 501(c)(3) Non-Profit # 20-4841958).
Made with Squarespace
Follow
TwitterInstagramFacebook
Drug addict mom Ginny Burtons incredible transformation
Ginny Burton, a 48-year-old mother and former heroin addict, has shared her incredible transformation after escaping her life-long drug hell
SEE FULL COVERAGE
Ginny Burton, a 48-year-old mother and former heroin addict, has shared her unbelievable transformation after escaping her life-long drug hell and discovering her love of studying.
Born in Tacoma in the US state of Washington, the mother-of-three tells KATU that she was introduced to drugs from the tender age of six, with her drug-dealer and mentally ill mother giving her marijuana.
Ginny's father was in prison after being convicted for a string of armed robberies.
From the age of 12, she began taking the highly addictive drug methamphetamine, and admits she spent her early life in a "drug vortex" that she couldn't escape from.
She was born in Tacoma in 1972. She was one of seven children born to a mother who was a drug addict and a drug dealer who suffered from mental illness.
Former drug addict Ginny Burton told the publication that she began smoking crack cocaine at the age of 14, and was raped by a drug dealer three years later.
The shocking sexual assault led her to attempt suicide at the age of 17, the first of many attempts, The Sun reports.
Get the latest news and important stories. Download the free Knewz app for iOS and Android.
By the age of 23, Ginny was a full-on heroin addict and in an abusive relationship. She also had two children, however they were removed from her care when her addiction became so bad that she robbed Mexican drug dealers at gunpoint and stole cars.
Desperate to feed her drug addiction, Ginny was arrested more than 20 times for a number of offenses, including identity theft, assault, and armed robberies.
So bad was her addiction, she robbed Mexican drug dealers at gunpoint and stole cars.
At her lowest point, drug addict Ginny Burton had been convicted of 17 offenses, was homeless and living on the streets of Seattle, according to KIRO.
"Whatever I had to do, everyone was a victim and everyone was prey," she told the publication. "There were a number of times I just barely made it out."
However, after serving time in every women's prison in the state by 2012, something in Ginny changed. The addict had been arrested for crashing a stolen truck into a tree during a police chase, and admitted it was the wake-up call she so desperately needed to finally get clean and turn her life around.
So she served her time, got off the drugs with the help of a court-ordered drug program, and decided to go back to school. She began taking classes at South Seattle College in Washington in 2016, along with students half her age.
"I was looking at my fourth prison sentence and I made a decision. The minute I got into the police car. That was it. I was done and I was super grateful I had been arrested because I knew it was going to give me an opportunity to change my life," said Burton.
Five years later, as her jaw-dropping transformation from drug addict to university student goes viral, Ginny Burton is due to graduate from the University of Washington with a degree in Political Science, The Mirror reports.
The 48-year-old was also named the 2020 Truman Scholar for Washington, a prestigious award acknowledged on the basis of public service as well as academic achievement.
Overcoming her fear of heights, Ginny also discovered her love of mountain climbing and has already climbed Mount Rainier. She has reconnected with her husband, Chris Burton, who was also recently released from jail and is clean now — something he attributes to watching his wife's determination and success.
Ginny hopes her extraordinary life story can be an inspiration to others battling addiction. "I had to believe I could do it too, and I think that's what I am giving to the world," she said.
"You can't stand your life. You would rather be dead than alive. I spent most of my addiction wishing that somebody would just blow me away."
Incredible before-and-after pics of heroin addict mum who turned her life around
Get the Knewz app:
More From Knewz.com
Texas woman, 26, sparks global uproar with gleeful hunting pics of her kills– and she's refusing to quit despite death threats
Prime suspect in Madeleine McCann case pens fiery letter defending his innocence, tells police to 'give up'
Meghan and Harry 'warned to stay away from UK' ahead of Lilibet's christening, with 'too many bridges burned'
Former heroin addict who did drugs aged 6 now a top uni graduate
Ginny Burton decided she wanted to turn her life around after being imprisoned and wanted to be placed on a Drug Diversion Court program.
Join thousands of others and get the latest Scottish crime and courts news sent straight to your inbox with our daily Criminal Record newsletter.
A mum-of-two has shared her incredible transformation from being a heroin addict who robbed Mexican drug dealers at gunpoint to being one of the top students in her graduating university class.
Ginny Burton, 48, was put behind bars three times and was introduced to cannabis by her mum when she was only six-years-old while her dad was jailed for armed robbery. She started using crystal meth when she was 12, Daily Star reported.
At age 14 she smoked crack and by the time she was 21 she was injecting heroin.
At 16, she was raped by her mum's drug dealer.
Ginny began robbing Mexican drug dealers at gunpoint years later and crashed a stolen truck during a police chase, KMTR reports.
«I am that person,» she told the US outlet. «I have 17 felony convictions. I am the person you used to clutch your bag when I walked by you. I am the person that would randomly attack somebody in public.
«I was not a savoury person. Everybody was a victim, and everybody was prey.»
She added: «You can't stand your life. You would rather be dead than alive. I spent most of my addiction wishing that somebody would just blow me away.»
But her life was transformed forever when she was arrested for the last time in December 2012.
She decided to turn her life around after being imprisoned, and begged with the courts to place her into the Drug Diversion Court program.
Ginny finally rid herself from her addictions and criminal past for good, returning to education.
Having completed a college course in Seattle as the oldest person in her class, she was accepted by the University of Washington.
In 2019, she was awarded a scholarship and joined the university's all-academic team.
A year later was named the 2020 Truman Scholar for the state of Washington.
And now she has graduated from the University of Washington with a political science degree, and is hoping to work in prison reform.
Don't miss the latest news from around Scotland and beyond. Sign up to our daily newsletterhere.
referencia:
www.rtl.de
www.10tv.com
postprisonedu.org
knewz.com
www.dailyrecord.co.uk