Athletic Club 0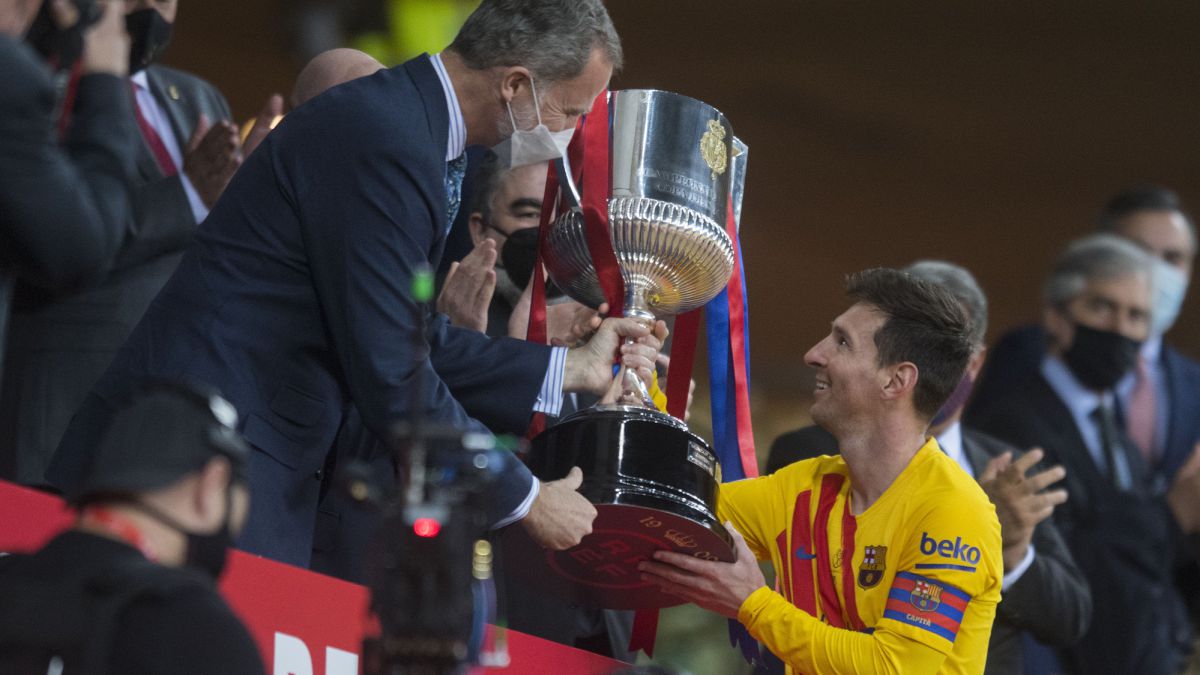 COPA DEL REY
Copa del Rey winners list: who has lifted the most Copas?
Barcelona have cemented their status as the Copa del Rey's most decorated club with tonight's victory over Athletic Club.
Here's an updated look at the Copa records of the competition's most successful teams.
Here, courtesy of Barcelona's social-media team, is the moment that Lionel Messi and Sergio Busquets lifted the Copa del Rey together:
Gerard Piqué has tweeted that Barcelona's Copa del Rey win is "just the beginning".
"This is not over, this is just the beginning!" the Barcelona defender said. "Congratulations Culers! Long live Barça and long live Catalonia! Cup winners!!!!!"
The Barcelona players pose with the Copa del Rey trophy following their 4-0 win over Athletic Club tonight.
(Photo: EFE/ Julio Muñoz)
Athletic Club midfielder Dani García has said sorry to the club's fans in the wake of Los Leones' second Copa del Rey final defeat this month, telling reporters: "We apologise to the fans because these have been two big blows. Now we'll try to make sure we finish the season as well as possible. We have to keep working hard for this badge."
"A special trophy":
"I'm really happy to have won this trophy. The Copa del Rey has been really tough for us this season. It's always special to lift a trophy. It's a happy day, this group deserved this moment of joy. It's special being captain of this club, of this team. It's a special trophy to get your hands on."
Patience:
"We knew that Athletic always play the same way. We showed patience with the ball.
Eager to add LaLiga title to the Copa:
"I'm sure the fans at home will be happy. It's been a difficult year. Now we have to keep on fighting for the league title. It's been an unusual year, one of transition. We found it hard to get going, we dropped points through naivety. We've got ourselves into the race now, though, and there are still a number of games to go. We have to give it everything we have right to the end." 
As well as overtaking Telmo Zarra's Copa del Rey final goals record, Lionel Messi has tonight brought up 30 Barcelona goals in all competitions for the 13th season in a row.
Deserved victory:
"We deserved it. We found it very hard to get to the final and I think the team played very well from start to finish. We were the better side."
Pleased with the football Barcelona played:
"We found it difficult to make the breakthrough […], but after the first goal, we managed to kill off the game with some really good football."
Lionel Messi and Frenkie de Jong:
"Messi has been showing for so many years that he's the best in the world. You have to highlight Frenkie de Jong, too – his contribution was very important. But in general you have to highlight the performance of the whole team."
Pleased for the Barça players:
"I feel really happy for these players, who needed this; it'd been a little while since we won a trophy."
Lionel Messi future:
"We're going to do everything we can to get Leo to stay."
Ronald Koeman:
"Ronald is doing very well, working with real dedication, and you can see the players appreciate what he's doing. Today is a day to congratulate all the players and the coaching staff."
Leo Messi, Sergio Busquets and Gerard Piqué have now won seven Copas del Rey each, joining Athletic Club's José María Belauste and 'Piru' Gaínza as the competition's most decorated players.
Messi collects the Copa del Rey from King Felipe at the Estadio de la Cartuja:
"Proud of the team":
"I'm proud of the team and the work we put in. We found the going tough in the Copa del Rey this year, so we're going to enjoy it."
Copa reward:
"It's a long season and there are good moments and bad moments, and you have to keep on going, stay mentally strong […]. This is our reward."
Lionel Messi future:
"I think he's happy here, we'll see what happens. It's not in our hands."
Does this Copa win strengthen Ronald Koeman's position as head coach?
"Ask the president!"
Lionel Messi, who is now the highest scorer of all time in Copa del Rey finals, is named the man of the match tonight.
Barcelona dominant:
"It's a very tough moment for us; we were excited to play this game and were raring to go, but Barcelona were the better side. They dominated us."
Defeat "really hurts":
"They were better than us and it really hurts. We just have to keep on going. It's a tough moment, but we'll pick ourselves up."
Peeep peep peeeep! Barcelona have thumped Athletic Club and have won the Copa del Rey for a record 31st time. Ronald Koeman's men were dominant from start to finish and thoroughly deserve their win.
It's hard to even begin to imagine the depth of disappointment that Athletic must be feeling right now.
Barcelona almost get Braithwaite in on Simón, but the Dane's control lets him down as he attempts to pull a high ball down in the box, and the chance is lost.
Two minutes of time added on at the Estadio de la Cartuja.
Yuri is booked for an offence that I confess I missed.
That's Griezmann's last involvement. He and Óscar Mingueza are taken off, with Ousmane Dembélé and Martin Braithwaite coming on.
Griezmann has it in the net for what he thinks is Barcelona's fifth, but it's ruled out after a VAR check. Having been played in on Simón by Messi's slide-rule ball, the Frenchman rounded the goalkeeper and slotted into the empty net, but he was just offside.
There's a chance for Raúl García… but he heads into the ground and over! He had a free header from a right-wing corner, but got his effort all wrong. He's more than a little cheesed off with himself.
Barcelona make another change, replacing Piqué with Ronald Araújo.
Piqué and Koeman engage in a session of vigorous back-slapping as the defender makes his way to the Barça bench.
Íñigo Martínez fires a free-kick into the Barcelona wall from 25 yards or so out. You have to feel for Athletic; missing out on the Copa del Rey twice in the space of 15 days, one of them to your local rivals… well, that's uncharted territory when it comes to cup-final disappointment.
Barcelona bring on Sergi Roberto in place of Sergiño Dest.
4-0! Messi overtakes Zarra!
Receiving the ball on the left wing, Alba rolls it back into the box to meet the run of Messi, who strokes it first-time past Simón and into the near corner.
That's now a record nine goals in Copa del Rey finals for the Argentine.
That Lionel Messi strike is his eighth career Copa del Rey final goal, meaning the Barcelona star has drawn level with the legendary Telmo Zarra as the player with the most Copa final goals ever.
Messi scores a sumptuous solo goal! Game over!
The Argentine plays a one-two-three-four with De Jong, before advancing into the right-hand side of the box, cutting inside Unai Núñez and rolling a nonchalant finish past Simón and into the far corner, easy as you like. Marvellous goal.
Athletic make a triple substitution, replacing Yeray Álvarez, Unai López and Iñaki Williams with Yuri Berchiche, Asier Villalibre and Unai Núñez.
Can Athletic respond? They're going to have to do rather more in attack than they have in the 65 minutes or so we've had so far.
Williams plays it back to Vesga to shoot from 20 yards, but the substitute blazes high and wide.
And now it's 2-0!
Alba crosses from the left, Messi stretches but can't connect, but it runs through to De Jong to head home at the back post!
Barça have one hand on their 31st Copa del Rey, and deservedly so.
Barcelona lead! They've been on top all night, but a goal had really been coming in the past few minutes.
It's a move not unlike that Griezmann chance a few moments ago: Messi plays De Jong into crossing space on the right with a perfectly-weighted ball, and he finds the Frenchman in space in the middle with a low, first-time ball into the six-yard box. This time, Griezmann makes no mistake, sidefooting firmly past Simón. 1-0 to Barça!
Williams sticks on the after-burners and scuttles towards the left-hand byline, but his cut-back can't find a red and white shirt. Barça clear with ease.
Raúl García touches the ball down towards Williams at the near post, but the striker can't collect and Barça clear.
Other than that, it's been total Barça domination since the break.
Athletic make a second substituion, replacing Berenguer with Mikel Vesga.
Having denied Pedri with a very decent stop, Simón now produces an absolutely top-notch save to prevent Busquets from scoring what seemed like a certain goal!
In his attempts to clear Alba's cross into the box, Martínez thumps the ball straight at Lekue, and it bounces right to Busquets some six yards out. Busquets turns it towards goal, but Simón somehow manages to get his body in the way.
Busquets cannot believe it.
Griezmann lays it back to Pedri, who shoots low towards the near post from the top of the of the box, but Simón is quickly down to parry! That'sn a very decent stop – Pedri's strike was fizzing into the bottom corner.
Messi stands over a dangerous Barcelona free-kick on the right wing, but delivers straight into Simón's arms.
What a chance for Griezmann! Messi slips Dest in behind the Athletic defence and into crossing space on the right-hand side of the box. Dest has Griezmann all on his own in the middle, and finds the Frenchman with a low ball into the six-yard box… but Simón saves!
Griezmann's shot hits the Athletic keeper, bounces back off the forward, and drifts just wide of the post.
Athletic Club have made a half-time substitution, replacing Iker Muniain with Íñigo Lekue. Muniain had been struggling with a niggle in recent days.
Lekue has slotted into the right-back role, with De Marcos stepping up to right midfield and Berenguer moving across to the left of the midfield to fill the void left by Muniain.
Peeeep! We're back up and running at the Estadio de la Cartuja.
In pictures: Athletic Club's Íñigo Martínez stretches for the ball in the Barcelona box, sending Alex Berenguer's free-kick just wide in what was Los Leones' best chance of the first half.
(Photo: MIGUEL MORENATTI/DIARIO AS)
Peep peep peeeep! Goalless it remains. Barça have had an overwhelming amount of the ball – around 85%, say the most recent Opta stats – and have had several shots. That said, Ronald Koeman's men have only once come genuinely close to scoring, when Frenkie de Jong hit the post in the fifth minute.
Athletic have spent most of the half chasing the ball and have had considerably fewer attacking moments than Barça, but would have a goal to show for themselves had Íñigo Martínez's shot from Alex Berenguer's dead-ball delivery been a few inches to the right.
One minute of time added on in Seville.
Alba crosses low, but – at the second attempt – Yeray thumps it clear. There were timid appeals for a penalty when Yeray's initial clearance seemed to hit Dani García's hand, but play on, say the officials.
Williams gets what, by my count, is his first chance to run at a back-pedalling Barça defence and make use of his not inconsiderable pace. He scampers towards the left-hand byline and cuts the ball back across goal, but it's too close to Ter Stegen, who grabs hold.
Messi thumps it into the wall.
Messi is again fouled by Dani García, this time right on the edge of the box. This one is worth a yellow, the referee decides.
Barça aren't happy with Martínez Munuera for not playing the advantage – they feel Alba had a chance to advance into the box and shoot.
Still, the Blaugrana have a highly dangerous free-kick in prime Messi territory…
Messi is down and in some pain after being blocked off by Dani García. Again Barça's players suggest to the referee that it might be an idea to get his cards out – indeed, Messi gives him a real piece of his mind when he gets back up – but Martínez Munuera is unmoved. Alba clips the free-kick into the box, but Athletic get it away.
Dest gets to the byline and whips in a cross to Griezmann at the near post, but the Frenchman is beaten to it by Íñigo Martínez, and is penalised for giving his former Real Sociedad colleague a sly shove before they jumped for the ball.
Berenguer fells Pedri, bringing an abrupt end to the midfielder's progress towards the Athletic area. Barcelona want a yellow card for that, but Berenguer escapes with no more than a minor ticking-off.
Update on Piqué: DAZN's Lucía Villalón says the defender has just directed a nothing-to-worry-about gesture at the Barcelona bench.
Messi dinks a lovely ball into Mingueza's run into the box, before advancing into the area to collect the return. Collect it he does, but Yeray blocks the Argentine's shot. Fine play from Messi.
Athletic finally enjoy a spell of possession that lasts more than just a few seconds. They give it back to Barça before long, though, and back come Ronald Koeman's men at the Basques.
Alba fires in a low cross from the left, but it's cleared. Moments later, Messi jinks inside Dani García and flops to the turf 25 yards out from goal, but the referee says no free-kick.
Araújo is warming up at a very leisurely pace, reports DAZN's Lucía Villalón, suggesting that if Piqué has tweaked something, he hasn't tweaked it hard enough to come off anytime soon.
Messi cuts back onto his right inside the box, wriggling into a yard of space to shoot at goal, but Unai López throws himself in the way of the forward's strike and gets enough of his body on it to take the sting out of it. The shot loops harmlessly into Simón's arms.
Well, this is interesting – Ronald Araújo is warming up for Barcelona, it appears. Possibly with a view to replacing Gerard Piqué, who is only just returning from injury.
The game continues to be played almost exclusively in the Athletic half.
Dest swings in a cross from the right, but his delivery thumps off Balenziaga's face and behind for a corner. The left-back looks more than a little dazed.
Athletic deal with the corner.
There's the first moment of attacking danger from Athletic – and Íñigo Martínez is inches away from giving the Basques the lead against the run of play! Berenguer whips in a lovely free-kick delivery from the right wing, and although a stretching Williams can't quite get to the ball, Martínez does manage to connect – but it flashes just, just wide of Ter Stegen's right-hand post.
Another shooting chance for Barcelona! Griezmann controls a high ball at the near post before pulling it back to Messi 10 yards or so out, but the Argentine drags his effort into the side-netting.
Busquets goes in high on Unai López, prompting Athletic's plays to energetically encourage the referee to reward the Barça midfielder with a booking… but Juan Martínez Munuera keeps his cards in his pocket.
Dest cuts in from the right, roves into the box and, having carved out a yard or two of shooting space, pulls his effort just wide of the near post.
Genuinely not sure whether Athletic have completed a single pass yet.
Barça hit the post! It's been all Blaugrana ball so far, and De Jong is inches away from giving his side an early lead.
Messi pulls the ball down at the back of the box – again, Athletic's marking is charitable, to say the least – and lays it back to De Jong, who fires first-time torwards Simón's right-hand corner, but sees his shot bounce back off the woodwork.
Busquets fizzes a low ball to the top of the box to De Jong, who plays it first-time to Messi. He in turn slips it sideways to Griezmann, who releases Alba into acres of space on the left-hand side of the box… but the flag was up against De Jong.
Peeep! We're underway!
Out come the teams at the Estadio de la Cartuja! I can confirm that Athletic Club Iker Muniain did NOT touch the cup, and therefore hasn't irrevocably jinxed a second final in as many weeks. Didn't even look at it.
The teams line up for the Spanish national anthem – and, at least on this score, the organisers may be rather relieved there are no supporters in the stands. Experience suggests the Basque and Catalan fans would not have listen in polite silence.
Athletic have lost three Copa del Rey finals to Barcelona in the last 12 years – in 2009, 2012 and 2015 – but Los Leones have the upper hand over the Catalans in the sides' most recent cup meetings, winning two of the last three.
Since beating Barcelona in the Spanish Super Cup final in January, Athletic Club's form has taken something of a nosedive. That win over Barça came as part of a run of five victories in Marcelino's first six games in charge at San Mamés, but Athletic are now on a rather less impressive sequence of two wins in their last 10, and none in their last six.
Barcelona have been in rather better form, on the other hand: until last weekend's defeat to Real Madrid, Ronald Koeman's men had not lost in LaLiga in 19 games – a streak that has pulled them back into contention for the league title. Despite that Clásico loss, they're just two points behind leaders Atlético Madrid.
Barcelona job on the line in Copa del Rey final?
"If you would like to hear my opinion about this, it's a little bit strange that I need to answer questions like this. We had a run of 19 games without losing, we lose one match and I need to talk about my future. Maybe I need to accept this, but I don't agree. You have to do your job and talk to people in the club. I have one more year of my contract. I know before the game what will happen if we win and if we don't win. I have to accept it. I took this job as a coach and I know there's a big pressure and I can handle that. Sometimes it's a little bit strange."
More from Ronald Koeman's pre-Copa del Rey final press conference
(Photo: JAVIER SORIANO / AFP)
Putting 2020 final defeat behind them:
"The final against La Real is already history. We've analysed why we weren't ourselves and now we're only worrying about the 90 minutes in front of us."
Belief against Barça:
"We're very excited about this final. We're up against an extremely difficult opponent – but that won't take away from our belief that we can win and bring the Copa back to Bilbao."
"Head and heart"
"Head and heart. That's the key to victory."
(Photo: RFEF/Diario AS)
There are two changes to the Athletic Club side that lost the all-Basque Copa del Rey final against Real Sociedad two weeks ago, Mikel Balenziaga replacing Yuri Berchiche at left-back and Unai López starting in midfield ahead of Unai Vencedor.
Meanwhile, Gerard Piqué returns to the Barcelona XI, the veteran central defender making his first start for the Blaugrana in a month and a half. Ronald Araújo makes way.
In the one other change to the Barça side that began last Saturday's Clásico defeat to Real Madrid, Antoine Griezmann comes in for Ousmane Dembélé in attack.
No place even on the bench for either Riqui Puig or summer signing Miralem Pjanic.
(Photo: EFE/ Rodrigo Jiménez)
Starting line-up: Ter Stegen, Mingueza, Piqué, Lenglet, Dest, Busquets, De Jong, Alba, Pedri, Messi, Griezmann
Substitutes: Iñaki Peña, Arnau Tenas, Araujo, Braithwaite, Dembélé, Trincão, Sergi Roberto, Umtiti and Moriba
Startling line-up: Simón, De Marcos, Yeray, Íñigo Martínez, Balenziaga, Berenguer, Dani García, Unai López, Muniain, Raúl García, Williams
Substitutes: Ezkieta, Morcillo, Núñez, Vesga, Lekue, Yuri, Villalibre, Capa, Vencedor
As I mentioned in my introduction, tonight's Copa del Rey final pits the competition's two most decorated clubs against each other in Seville.
Here's a look at the Copa records of the most successful sides in the history of Spain's domestic cup.
(Photo: RFEF/Diario AS)
COPA DEL REY FINAL
Athletic vs Barcelona – Copa del Rey Final: times, TV & how to watch online
If you're not sure how you can tune into tonight's Copa del Rey final on the telly, we recommend you take a look at our guide on how and where to watch.
Hola! Welcome to our live-text coverage of the 2021 Copa del Rey final, as 30-time tournament winners Barcelona do battle with 23-time tournament winners Athletic Club in what will be the sides' ninth meeting in the fixture.
Athletic may be the Copa's second-most decorated club behind only Barça, but they haven't won the trophy in 37 years now – not since beating the Blaugrana in a Bernabéu final chiefly memorable for ending up in a humongous punch-up. The Basques have lost their last five Copa finals, with three of those defeats coming against Barcelona in a six-year period between 2009 and 2015.
Most recently and most painfully, though, Athletic were beaten in the postponed 2020 final against regional rivals Real Sociedad earlier this month, Mikel Oyarzabal's second-half penalty giving La Real their first Copa since 1987.
Defeat in two cup finals in two weeks would, in the words of the great Jimmy Bullard, be a real kick in the goolies for Marcelino's men.
For Barcelona, meanwhile, tonight's clash at Seville's Estadio de la Cartuja represents an opportunity to get revenge for their 3-2 defeat to Athletic in January's Spanish Super Cup final at the same venue.
That game, which saw Lionel Messi pick up the first red card of his club career for cuffing Asier Villalibre late on, is just one of a number of big occasions where Barça have come up distinctly short this season. Under Ronald Koeman, the Catalans have also lost twice to arch rivals Real Madrid, been beaten by Atlético Madrid, and been given a hiding at home by both Paris Saint-Germain and Juventus.
Tonight would be a rather good time for Barça to buck that particular trend. Not only would it ensure they avoid a second straight trophyless season – although they're also in contention for LaLiga, of course – but it might go some way to persuading the soon-to-be-out-of-contract Messi that it's worth sticking about next season.
Messi scores twice as Barcelona crush Athletic Bilbao 4
Lionel Messi scored twice, including a stunning solo goal, as Barcelona blew away Athletic Bilbao to win the Copa del Rey on Saturday, consigning their opponents to a second final defeat in two weeks…
The cup was won and lost in a whirlwind 12 minutes in Seville, which saw Barca score four times to clinch an emphatic 4-0 victory, with Messi at his devastating best.
It remains to be seen if his seventh Copa del Rey triumph is the last trophy Messi lifts in Barcelona colours but if this was to be a final flourish, the 33-year-old crafted a fitting farewell. 
"It's very special to be captain of this team where I have spent my whole life and very special to be able to lift this cup," Messi said.
His first goal, and Barca's third, started with the Argentinian in his own half before a charging run down the right and a surge forward into the penalty area gave him the chance for a simple finish. 
With the club's new president Joan Laporta in the crowd, Ronald Koeman's first title as Barcelona coach should also significantly boost his chances of remaining in charge beyond the summer. 
"To win a title is important for me," Koeman admitted afterwards.
Yet Laporta was noticeably evasive when asked about Koeman's future. 
"He is doing well," he said.
Koeman took over a team at rock bottom, humiliated by an historic loss to Bayern Munich and wounded by the attempts of Messi to leave the club for free. 
But this 31st Copa del Rey success for the club is a testament to progress made and Koeman will hope it not only helps convince Messi to stay but gives Barca momentum now in a neck-and-neck title race in La Liga.
"Despite the changes at the club and the young players, at Barca you have to always fight for trophies," Koeman said. 
"We have the first one and now we are going to fight to the last game in La Liga."
'Turned it around'
Gerard Pique said it felt like the club had been "reset". 
"Sometimes you fall down and you have to get up," Pique said. "It has been a difficult year but the team has turned it around."
Messi was sent off when Athletic Bilbao beat Barcelona, also at the La Cartuja, in January to win the Spanish Super Cup but they never looked like pulling off a repeat. 
After Athletic lost to their Basque rivals Real Sociedad in last year's postponed final only two weeks ago, lifting themselves for another showpiece in the same stadium and against a tougher opponent was always going to be a big ask. 
"In both finals we played well below the level that we're capable of," said Athletic coach Marcelino Garcia Toral. 
Barcelona were almost ahead after four minutes as Sergio Busquets played in Messi, who rolled back for Frenkie de Jong but his sidefooted finish came back off the far post. 
Sergino Dest dragged wide while Inigo Martinez had Athletic's best chance but as he stretched for the bouncing ball, he could only poke over.
Athletic seemed to have played their way into the match before half-time but Barcelona came out with renewed vigour, with Unai Simon making two brilliant saves to deny Antoine Griezmann and then Busquets, both from close range. 
But when the resistance gave way, it became a collapse, with goals scored in the 60th, 63rd, 68th and 72nd minutes to leave Athletic's hopes in tatters. 
First, Messi slipped in Dest down the right and his cross was diverted in by Griezmann before the second came from the opposite flank, Jordi Alba curled in a cross for De Jong to nod in. 
The third was a spectacular from Messi, who started the move in his own half, leaping over one challenge and dodging another. 
He took the ball back from Dest and drove down the right wing, away from three opponents and inside. 
Messi twice played off De Jong, the second time after motoring forward into the penalty area, where he darted between two last Athletic defenders and slid the finish into the far corner. 
His second, and Barca's fourth, was more straight-forward, Alba pulling a cross back for the Argentinian to tuck under a weak right hand from Simon and inside the post. For Athletic, there was no way back.
(AFP)
Daily newsletterReceive essential international news every morning
Take international news everywhere with you! Download the France 24 app
Messi stars as Barcelona thrash Athletic Bilbao to lift Copa del Rey
Lionel Messi inspired Barcelona to an emphatic 4-0 victory over Athletic Bilbao in the Copa del Rey final.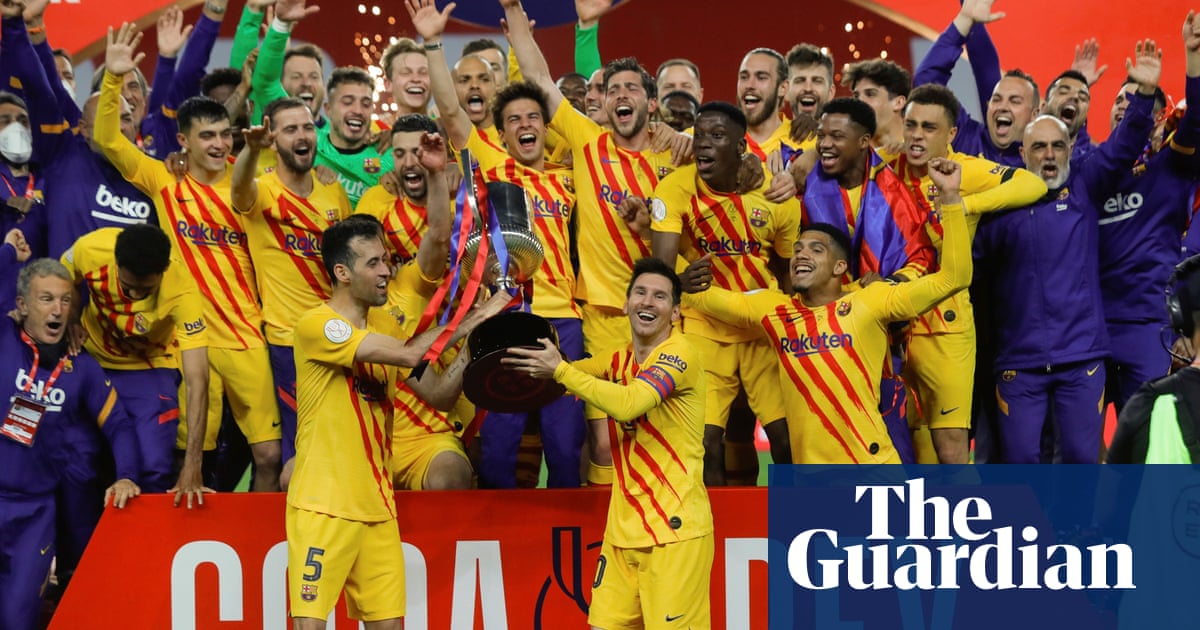 There were seventy minutes gone in the 2021 Copa del Rey final when Jordi Alba and Lionel Messi did what Jordi Alba and Lionel Messi do, replicating the move they have produced a thousand times to round off a final that ended in familiar style. Alba's pass, Messi's finish, and Barcelona had the fourth goal of the night and their seventh Copa del Rey in 12 years. If Messi is to depart at the end of the season at least they can remember him like this, scoring twice and lifting his 35th trophy at the club.
Antoine Griezmann and Frenkie de Jong, meanwhile, lifted their first having sparked Barcelona into life with the first and second of a four goal burst early in the second half that ended what little resistance Athletic Bilbao could muster – which wasn't much. So too did manager Ronald Koeman, who must have wondered how his team were not leading at the break, but was beaming by the end. Ultimately, they were just much too good, taking Athletic apart piece by piece. Rarely can a final have been so one-sided.
There is room for optimism at Barcelona now, one trophy secured, a league title still to play for. Maybe even a future too, whether that is with Messi or with the men he would leave behind. For Athletic, by contrast, this cut deep. They have now lost two Copa del Rey finals here in a fortnight, five in 12 years, and six since they last lifted a major trophy in 1984. Four of those have been against Barcelona, in 2009, 2012, 2015 and 2021. In each of those finals, Messi scored. And if defeat was always likely, they didn't picture it like this, a destruction so complete, so comfortable.
If defeat was always likely, a destruction so complete, so comfortable was not. "If we think we are going to have more of the ball than Barcelona, we're not living in the real world," Marcelino had said, but even he can't have imagined this. One minute and 59 seconds had passed before they even touched it, and that was a challenge that gave away a throw, the cycle beginning again and hardly finishing until the game was over.
The chances arrived early too, possession far from sterile. Only four minutes in, Messi rolled into the path of De Jong to hit the post. That Messi had been on the edge of the six-yard box would have concerned Athletic; that he got there so easily must have worried them even more. It was a recurring theme. At half-time, Athletic could claim just 18% of the ball, Barcelona passing around them at ease, sometimes even at walking pace.
Sergiño Dest cut inside and shot wide after six minutes. Messi slotted a cleverly angled ball for Griezmann that concluded with a deflected effort sneaking past a post. A neat move between Messi and Óscar Mingueza worked them deep into Athletic's area and yielded another blocked shot. All Athletic could do was wait, although Iñigo Martinez dived to toe-end a bouncing delivery just beyond the post, a fleeting reminder that they were actually in the game.
Marcelino departed scratching his head at half-time, needing to do something, anything. Messi returned determined to put the game beyond doubt, releasing Dest to pull back for Griezmann, sliding in four yards from goal. Unai Simón made a superb point-blank save with his outstretched foot, the ball rebounding fractionally wide off the Frenchman. That was just the start, a saviour temporarily emerging. Simón saved a Pedri shot then somehow stopped Sergio Busquets who looked to the sky, unable to believe it. They had only been playing six minutes.
By the time they had played six more, Barcelona led and the dam had burst. From almost the same place as he had that first chance, Griezmann was presented with another. Superbly supplied by De Jong, on his feet this time, he sidefooted home.
Athletic had trailed 1-0 in every game on route to this final but they had never felt this sense of inferiority and any hope of a fightback was snuffed out four minutes later when the superb De Jong headed in from Alba's delivery. Athletic were finished; Barcelona weren't.
A wonderful move that began deep inside their own half started, continued and finished by Messi unfolded. The Argentinian was involved in a series of exchanges with De Jong and at the end of it, he stepped inside and rolled into the corner. Eight minutes, three goals, game over. Wait, no. Twelve minutes, four goals, and this was a destruction, finished off with a move seen so many times but no easier to stop for it, a hint of nostalgia and another trophy.
COPA DEL REY FINAL PREVIEW
Saturday at 9.30pm CEST brings the chance to win the first silverware of the Koeman era, and a 31st Spanish Cup in total
FC Barcelona have a golden opportunity to win their first silverware of the Ronald Koeman era on Saturday at 9.30pm CEST as they take on Athletic Club in the Copa del Rey Final.
The two finalists are very much the 'kings of cups'. Historically, Athletic held the all-time record with 23 wins. But most of these came in the first half of the 20th century, and they have not added to their collection since beating Barça in the 1984 final.
They have reached five finals since then, but lost them all, including three against Barça (2009, 1012 and 2015). Athletic were also the finalists last season, the first ever against their local rivals Real Sociedad. Due to Covid-19, that game didn't get played until two weeks ago. They lost 1-0, but we now have the bizarre situation that just a fortnight later they are playing in another final!
Barça surpassed Athletic's record wins in 1998, and have gone on to win the trophy another seven times since then, for a total of 30, including a spectacular four-in-a-row between 2015 and 2018. This last decade has been Barça's best ever in the competition. Last season was only second time in eleven years that the Catalans did not appear in the final. In fact, it was Athletic who eliminated them, 1-0 at San Mamés in the quarter finals.
It's been a real rollercoaster of a ride to the final for Barça. A local derby against third-tier Cornellà proved much harder than expected, and the next three games all involved spectacular comebacks.
Late goals from Messi and De Jong avoided a shock at second division Rayo. They were losing 2-0 in Granada with just two minutes to go when late goals from Griezmann and Jordi Alba sent the game into extra time. And first leg defeat at Sevilla looked to have put an end to the cup run, but a Gerard Piqué goal in the very last second of extra time sent Barça into the final.
Round of 32Cornellà 0-2 FC BarcelonaUD Ibiza 1-2 Athletic Club
Round of 16Rayo Vallecano 1-2 FC BarcelonaAlcoyano 1-2 Athletic Club
Quarter FinalsGranada 3-5 FC Barcelona (after extra time)Real Betis 1-1 Athletic Club (Athletic won on penalties)
Semi FinalsSevilla 2-0 FC Barcelona / FC Barcelona 3-0 Sevilla(after extra time, Barça won 3-2 on aggregate)Athletic Club 1-1 Levante / Levante 1-2 Athletic Club(after extra time, Athletic won 3-2 on aggregate)
The 60,000 capacity Estadio de La Cartuja is being used for four consecutive Copa del Rey Finals, this being the second – so it is the same place where Athletic have already lost one final this month. It was also the venue for the Spanish Super Cup Final in January, where Athletic beat Barça in extra time to win the trophy.
Opened in 1999 for the World Athletics Championships it was part of two unsuccessful bids by the city to host the Olympic Games and also hosted the 2003 UEFA Cup Final between Celtic and Porto.
31/01/2 (LIGA) FC Barcelona 2-1 Athletic Club17/01/21 (SUPER CUP) FC Barcelona 2-3 Athletic Club (played in Seville)06/01/21 (LIGA)  Athletic Club 2-3 FC Barcelona  23/06/20  (LIGA) FC Barcelona 1-0 Athletic Club06/02/20 (COPA DEL REY) Athletic Club 1-0 FC Barcelona16/08/19  (LIGA) Athletic Club 1-0 FC Barcelona10/02/19  (LIGA) Athletic Club 0-0 FC Barcelona29/09/18  (LIGA) FC Barcelona 1-1 Athletic Club18/03/18  (LIGA) FC Barcelona 2-0 Athletic Club28/10/17  (LIGA) Athletic Club 0-2 FC Barcelona
Athletic were having a curiously irregular season, great wins one week and inexplicable losses the next, with no particular pattern and entering the new year, manager Gaizka Garitano was replaced by Marcelino (whose previous positions have included Sevilla, Villarreal and Valencia).
The change of management brought victory in the Spanish Super Cup in January, only the second piece of major silverware that the club has won this century. It also produced a cup run all the way to the final and something of an improvement to Athletic's league form, but mainly in the form of draws. Eight of Athletic's last 11 league games have all been tied. They're now eleventh in the table and hopes of European football next season are fading.
Last five gamesLIGA: Athletic Club 0-0 AlavésLIGA: Real Sociedad 1-1 Athletic ClubCOPA DEL REY: Athletic Club 0-1 Real SociedadLIGA: Athletic Club 1-1 EibarLIGA Celta Vigo 0-0 Athletic Club
Top goalscorers (all competitions)Raul Garcia 9; Alex Berenguer 8; Iñaki Williams 7; Iker Muniain 5
Ronald Koeman is taking all 26 members of his senior squad to Seville, including Neto and Ansu Fati despite them being injured and unable to play.
𝙀𝙑𝙀𝙍𝙔𝙊𝙉𝙀 𝙩𝙤 𝙎𝙚𝙫𝙞𝙡𝙡𝙚 𝙛𝙤𝙧 𝙩𝙝𝙚 𝘾𝙤𝙥𝙖 𝙙𝙚𝙡 𝙍𝙚𝙮 𝙁𝙄𝙉𝘼𝙇❗#CopaBarça pic.twitter.com/dPkJpT2Bzf
Athletic also have relatively few injury concerns considering the point we at this season, with Yeray Álvarez and Yuri Berchiche the only doubts.
–Leo Messi and Sergio Busquets could both play in their tenth Copa del Rey Finals, a competition record.
-Barça are in the final for the 42nd time, a record. They have gone on to win the title 30 times, scoring 92 goals.
–Leo Messi has scored 54 goals in 79 games in the competition, but it's surprising to note that (for once!) he does not hold the record. He is fifth in the all-time list, with Athletic legend Telmo Zarra's tally of 81 still some way off. 
Ronald Koeman made one thing clear in his pre-Copa del Rey final press conference on Friday: "We have to be good with and without the ball. If there is one thing we have lost in recent matches it is our game without the ball." More from the Barça coach: 
How to watch Copa del Rey final in USA: TV schedule, channel for Barcelona vs. Athletic Bilbao
Sporting News has you covered on how to watch the Copa del Rey final in the United States, including time, channel and streaming options.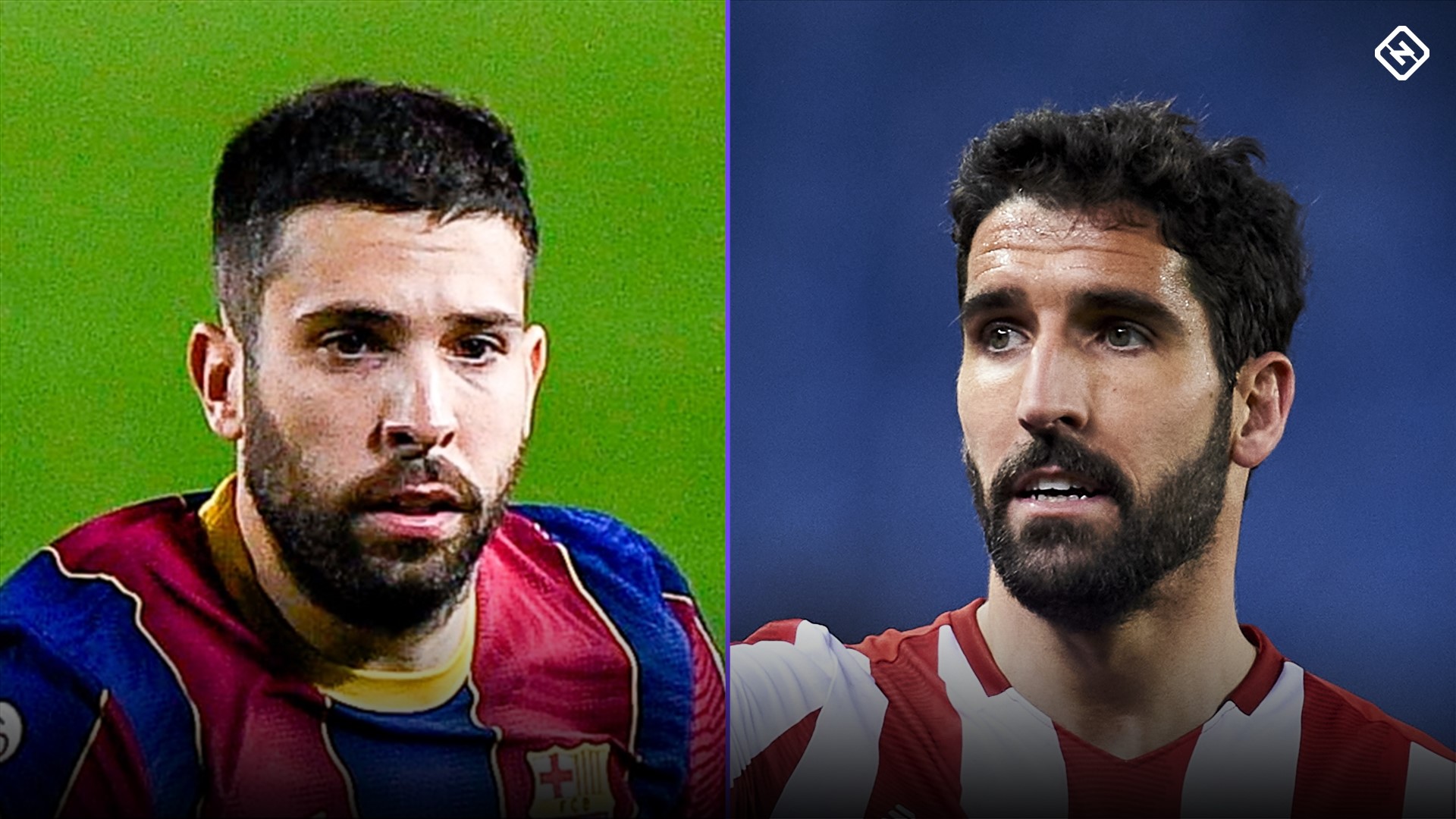 The 2020-21 Copa del Rey all comes down to this: Athletic Bilbao vs. Barcelona, the two most successful teams in the history of the tournament.
Barcelona has won La Copa 30 times in its history, and will look to win its first since 2017-18. That would mark the sixth such championship since 2010-11. Athletic Bilbao, meanwhile, is looking to secure its 24th championship, but first since 1983-84. It has made the final five times since winning its last title, most recently in 2019-20. This will be its fourth finals appearance 2008-09.
MORE: Sign up to watch Copa del Rey final exclusively on ESPN+
Barcelona has the historical advantage heading into this matchup, having beaten Athletic Bilbao 37 times out of 58 matches; the last matchup between these teams took place in La Liga earlier this year, ending in a 2-1 victory for Barcelona.
Can Athletic Bilbao exact revenge and Barcelona and return to former glory in Copa del Rey? Or will Barcelona continue its impressive run and add another title to its belt?
Here's a guide to watching the 2020-21 Copa del Rey final in the United States, including start times and live-streaming information.
The Copa del Rey final can be seen exclusively on ESPN+ in English and Spanish.
An ESPN+ subscription costs $5.99 per month or $59.99 annually. It can also be bundled with Disney+ and Hulu for $12.99 per month (Hulu with ads) or $18.99 per month (Hulu without ads).
Click here to learn about the different pricing and bundling options with the ESPN+ platform.
Copa del Rey 2020/2021 Table, Results, Stats and Fixtures
The latest table, results, stats and fixtures from the 2020/2021 Copa del Rey season. See who scored the most goals, cards, shots and more here.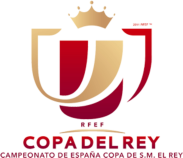 Thank you for using Footballcritic.Start by talking about your audience, not yourself.
Logout
Founded in 1903, the Copa del Rey is the most prestigious club cup competition in Spain. The tournament runs from August to April and is open to any Spanish professional team. It is a straight knockout format with teams being drawn against each other from the first round all the way to the final, which takes place at a different stadium each season. Eighty-three teams enter the tournament each season, with Barcelona winning the most titles in its history (29). The competition's all-time leading goalscorer is Telmo Zarra (81 goals).
Didier Deschamps is renowned in France as a lucky coach, but a number of injury problems have hit his squad before the last-16 encounter.
Italy beat Austria 2-1 to move through to the Euro 2020 quarter-finals, with Federico Chiesa and Matteo Pessina on target.
Frank de Boer is unlikely to make too many changes ahead of the Netherland's Last 16 clash with the Czech Republic on Sunday
Fernando Santos may be forced to drop Manchester United star Bruno Fernandes for his side's clash with Belgium on Sunday
referencia:
en.as.com
www.france24.com
www.theguardian.com
www.fcbarcelona.com
www.sportingnews.com
www.footballcritic.com